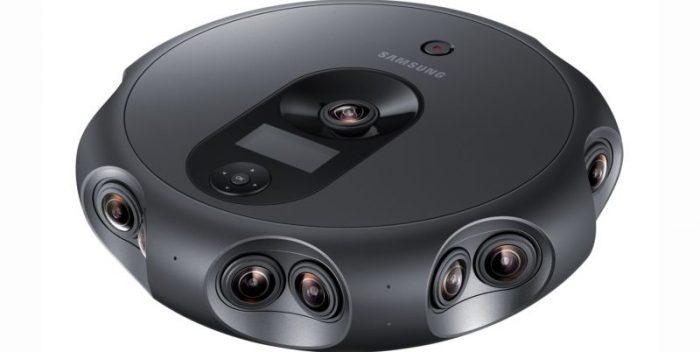 Samsung introduces the 360-degree camera; it's a new camera for emerging and streaming HQ 3D content for authorities and supporters who request a larger virtual reality capability. Announced at the Samsung Developer Conference, the Samsung 360 Round camera has use 17 lenses eight stereo pairs situated flat and one single lens located vertically to live stream 4K 3D video and 3-D audio, and makes attractive 3D images with deepness.
The Samsung 360-degree camera tough, solid design features IP651 water and dust resistance for use in daily climate environments and a fanless design to decrease heaviness and remove background sound. With an extra spec, with PC software for stitching and monitoring expandable external storage2, the 360 –degree Round camera provides non-stop shooting experience for any sized job.
The growth of Samsung 360 Round camera gratified stages, such as Samsung VR, Facebook, and YouTube, as well as the feast of 360-degree camera full coverage videos through major media, has increased the need for HQ 360-degree videos among VR and enthusiasts.
"The Samsung 360-degree camera is evidence to our management in the VR fair. We have industrialized a creation that contains advanced VR features, letting video creators and broadcast specialists to easily produce HQ 3D content," said Suk-Jea Hahn, Executive Vice President of Samsung Electronics' Global Mobile B2B Team. "The blend of live streaming abilities, IP65 water and dust resistance and 17 lenses creates this camera ideal for a wide range of use cases our clients want from live streaming main events to shooting at training facilities across several productions."
Samsung 360-degree camera specifications
Cameras: 17 cameras with 1/2.8-inch, 2M image sensor, F1.8 Lens
Audio: 6 internal microphones for spatial audio, 2 external microphone ports supported
Video Resolution: Live streaming (3D) 4096 x 2048 at 30fps per eye; Live streaming (2D) 4096 x 2048 at 30fps; Recording (3D) 4096 x 2048 at 30fps per eye; Recording (2D) 4096 x 2048 at 30fps
Video Format: MP4 (H.265/ H.264; 3D, 4k x 2k per eye; 2D 4k x 2k
Internal Memory: LPDDR3 10GB, eMMC 40GB
External Memory: UHS-II SD Card (up to 256GB), SSD (up to 2TB)
Connectivity: LAN, USB Type-C
Sensors: Gyrometer and Accelerometer
High-Quality 360-degree camera Content
The Samsung 360-Round camera deals HQ 3D images quality with a 4K camera, thanks to 17 camera lenses that capture a 360-degree camera for a full 3D experience. The Samsung 360 Round camera has a live streaming capability and recordings most easily than ever, with one-step seam and switch to software providing by Samsung Company.
Durability
The Samsung 360-degree camera uses a frame design uni-body to lessen the temperature, eliminating the essential for a cooling fan and minimizing size and weight. The solid design supports to remove extra noise and reduce power ingesting for an hour of nonstop shooting. Moreover, the 360 Round is IP651 dust and water resistant, making it an ideal choice for capturing content in the most challenging environments. Using the easy connectors and cable ports, the Samsung 360 degree camera is designed for simple and fast attach to any other equipment, such as MIC, and storage for saving huge files.
Samsung 360-degree camera: Availability
The Samsung 360-degree camera will be accessible in October in the US before rolling out in other marketplaces in the upcoming weeks.