Are You a Sports Lover? Check out These Amazing Streaming Sites
If you are an avid sports fanatic, you would love to stay entertained at all times. Be it football, cricket, NFL, or something else, you wouldn't want to miss any of your favorite team's games/matches. Maybe you are on a tight budget and can't afford to take a subscription to a paid streaming site. But that doesn't mean you won't be able to watch sports at all. There are multiple cool sites out there that offer free streaming services. They make it possible for you to watch your favorite sports without paying a dime. Here, we will give you the names of some of these sites that let you watch sports online free.
Sites to watch sports without paying any cash
Stream2Watch
When it comes to sports watching, Stream2Watch is among the major and most famous sites this year. No matter which sport you like, the site has it for you. You can stream all the games or matches you want right from its homepage. Besides streaming, you would get all related info such as player names and much more for a deeper experience.
The site provides multiple options for selecting the stream quality. This includes HD, Full HD, 1080p, etc. However, while the content is free of cost, you would get many ads on the website. Ads are what keep Stream2Watch a free service. So, you got to be a bit considerate, and disable any Adblock services you might be using before entering the site. Upon choosing a particular match or game to watch, you would get multiple mirrors of the said match. Thus, if one mirror fails to work, there are always others for you to stream or download that match. This makes sure that you don't miss watching your favorite sports at any cost.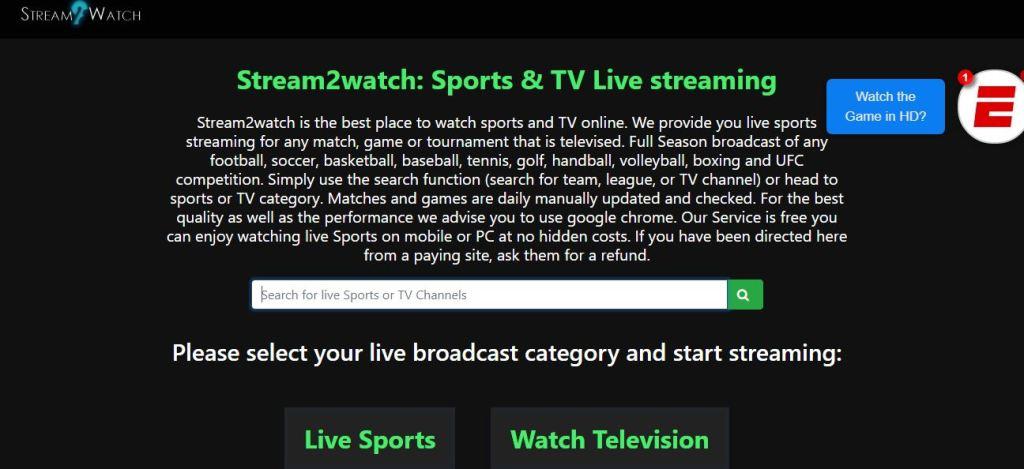 LiveTV
If you want to watch matches without paying any bucks, there is another site to check out. The site goes by the name of LiveTV. As the name makes it pretty obvious, the site lets you watch live matches gratis. Not only live matches but you would also get updates on tournaments, upcoming matches, and even the past matches. Doesn't it sound great already? Wait, there's more.
The app has no geo-restrictions. So, you would be capable of accessing the site regardless of where you are. Also, there are several messaging channels on the site where you can discuss any sport you desire to. And, the best part? There's no need to sign up or register on the site to access its content. Additionally, the site has dedicated apps for both Android and iOS so that users can easily access instant sports news. However, you might encounter many ads while using the site. Don't get annoyed, though. The site could continue to remain free as long as they earn money from these ads. But other than that, LiveTV is a solid site and definitely worth a visit.
Conclusion
In this piece, we informed you about awesome websites where you can stream or download your sports content for free. Don't wait any longer, and embrace them today.