There's a new way of displaying all your snaps in the Photos app on the iPhone 5C thankfully, it is iOS 7 overhaul. All your pictures are now automatically group by date and location, providing you with "collections". In iOS 8 Apple has added the ability to search through them for times or places via the icon at the top right.
Suppose you are off to a party or on a holiday somewhere with your family, the iPhone 5C will note that all your pictures are being taken at certain locations and at particular times. From that it's able to work out which photos were taken at which events with stunning accuracy and it makes it easier when it comes to showing off snaps to friends and family. It takes a little getting used to at first, as it's a very different way of browsing through your photos compared to previous iOS iterations and it is a little annoying as well to begin with. That's why Apple added the old Camera Roll back as an option in Albums.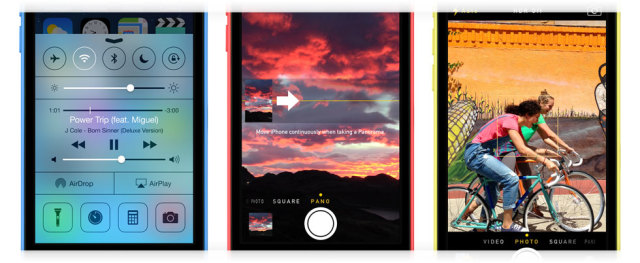 However, if you're not happy with the photos you have you can always tap the "edit" button when viewing a particular picture to take you into a basic editor. From there you have various options including crop, rotate, red eye removal, eight filters and auto-enhance. It's certainly not as detailed as Apple's iPhoto app – which can be downloaded for free from the App Store – but for the occasional photography this simple editor will suffice. iOS 8 has brought further options to tweak the light with exposure, shadows, brightness values and more, or to tweak the color, sliding to choose a more saturated look or a washed out palette.
Connectivity: Unsurprisingly the iPhone 5C comes will all manner of connectivity options, but NFC is still the high-profile absentee at the Apple party. Not even a plastic clad Smartphone could tempt the firm to give us a bit of contactless tech. There's a new way to control Wi-Fi and Bluetooth 4.0 in iOS 7 with the arrival of the Control Center, which is accessed with a swipe up from the bottom of the screen. This brings up some shortcut settings including toggles for both connections, plus you can also enable airplane mode here if you want to go off the grid or might be a plane.
GPS and GLONASS also make an appearance to help you locate yourself in Maps with earth shattering accuracy and navigate you round the world with the free turn-by-turn satellite navigation system. The iPhone 5C sports Apple's new physical connection port – dubbed Lightning – on its base which is used for charging as well as connecting to computers and any third party peripherals you may pick up. It provides a faster connection than the 30-pin port it replaced, allowing for quicker data transfer meaning you won't be waiting around quite so long.
Apple offers its own cloud storage solution cunningly named iCloud which lets you store all your vital information in its secure servers should the worst happen to your iPhone 5C.