Kazam Tornado 348 (part I):
You may not have heard of the ambitious mobile start-up. Still, Kazam has got itself the headline-grabbing accolade of "world's slimmest Smartphone" with its latest offering, the Kazam Tornado 348. It's a record the company has therefore claimed that it isn't going to rave about; instead it says it wants to keep things simple and gimmick-free, although you might find that a little hard to believe as that's just what the title it's claiming is. Well, surely not everyone would love to have a phone which is just 5.15mm thick. Nevertheless, the Kazam Tornado 348 had planned to touch down in the UK and some other European markets on November 15, bearing a SIM-free price tag of £249 – which sounds relatively reasonable. You get a 4.8-inch 720p display, 1.7GHz octa-core processor, 1GB of RAM, 16GB of internal storage, 8MP rear camera, 5MP front snapper and Android 4.4.2.
There's no micro-SD slot, so you could find storage limited if you have an extensive music collection or like playing games on your phone, but Kazam does throw in a free screen replacement if you break it within the first 12 months of ownership. You need to take just one look at the Tornado 348, and you'll be struck by that unmistakable feeling of "Oh Lord!"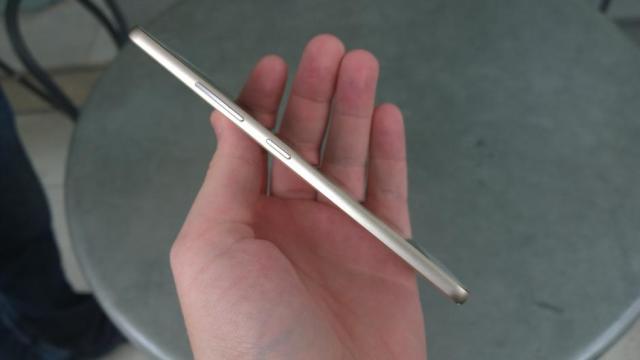 Features:
It looks exactly similar to Apple's new iPhone 6, plus some features such as the arrangement of the camera and flash on the rear mimic that of the Sony Xperia Z3. Kazam has confirmed that the core design of the handset was created by a third-party vendor in China, which goes some way to explaining the familiar aesthetics on display here. Sitting on a table, the Tornado 348 does look respectable; this isn't just a cheap hunk of non-descript plastic which adorned previous devices by Kazam. Instead, it will surprise you how light the Tornado 348 is. It weighs 95.5g, and it is one of the lightest Smartphones available on the market; if anything, it feels just a little too lightweight.
Couple that with an obviously plastic (not glass) rear, and the Tornado 348 feels a little kiddish in hand. Hence, there's no reassuring heft to tell you that this is a piece of tech you're holding. A saving grace is the metal band that runs around the device's circumference similarly to the Samsung Galaxy Alpha. While this provides a more premium finish, it fails to feel as good in the hand as its more expensive rivals. You will find it sitting nicely in your hand, with the dimensions and weight ensure in palm had no trouble getting to grips with the handset and reaching the power/lock and volume rocker on the left of the device. Kazam has opted to stick with touch-sensitive navigations keys below the screen, rather than sticking them on the display and they are easy enough to hit.