Kazam Tornado 348 (part II):
On the right you'll find a micro-SIM tray, while the headphone port is located on the base just like as on the iPhone along with the micro-USB port and internal speaker. With such a slender frame there is always the risk that the handset may be structurally weak, but after applying some heavy pressure you could only get the Tornado 348 to flex slightly. It should be able to avoid any bend-gate embarrassments then. The 4.8-inch display has a 1280 x 720 HD display, which is more than acceptable at this price point and the 306ppi screen makes text and images look good.
The Kazam Tornado 348 uses AMOLED technology to help enhance colors, and there you will be provided with a pleasing on-screen experience – although don't expect the vibrancy of Samsung's Super AMOLED tech to be on display here. It may not run the very latest version of Google's platform, but Android 4.4.2 KitKat is pretty close, although Kazam wasn't able to provide any assurances on whether or not the Tornado 348 will be getting an upgrade to Android L once it has launched. You will find out that Android skips along at a nice pace, no doubt partly thanks to the eight core Media-Tek processor and 1GB of RAM under the hood, with apps loading swiftly and transitions between screens smooth and fluid. More intensive applications, such as the camera, did take a little extra time to boot up, but it's nothing that you should need to worry about.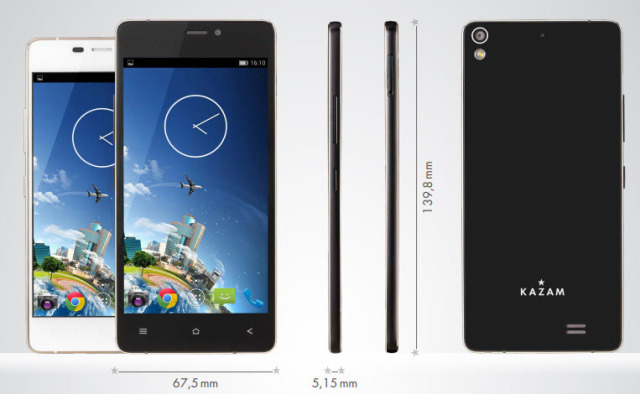 The camera itself would not perform much better on time. Images were pretty grainy and the focus was a little off in most shots. To be fair to the Tornado 348 most photos were taken in an oddly lit room, but it would not do anything to convince that you'll be taking stunning pictures on a daily basis. In terms of connectivity it's got the basics such as Wi-Fi, Bluetooth and GPS, but newer options including 4G and NFC are absent here, putting a mark against its name. A 2050mAh battery resides inside the super slender shell, and that's actually not bad especially when you take the dimensions into account, and it should hopefully provide a decent amount of life.
Early verdict:
All in all the Kazam Tornado 348 is a proficient, if unremarkable, Smartphone delivering you all the basics required for a modern mobile experience without breaking any new ground. There is though, one big problem and that is the competition. At £100 less the Moto G (2014) represents a very real threat to the Tornado, boasting a quad-core processor, 8GB or 16GB of storage with a micro-SD slot, similar 5-inch 720p display, 4G connectivity and a guaranteed upgrade to Android L. Kazam is hoping that the premium design of the Tornado, its offer of a free screen replacement within the first year and dedicated customer service will help tempt people towards to its proposition, but if you're on a budget the Motorola just feels like the better deal.