NiceTranslator – Check out the Most Convenient Online Dictionary of 2021
We all come across moments when we need to check the meaning of an unknown word. This is true especially when we are browsing the internet or reading an article with some difficult words. Also, sometimes we might come across a site that looks interesting, but its content is written in a foreign language. That's why we need a good and reliable online translator. Here, we will discuss a few things about perhaps the hottest online dictionary this year. Yes, we are talking about the nicetranslator site. So, read on.
How does the site function?
The app utilizes the famed Google Translate APIs to give users a faster and better translation experience. The list of available languages is also huge. The online translation site is known for offering a real-time translation of your typed words. You got to select one or more languages into which to translate your words. Plus, there is an auto-detection feature. So, the language in which you are typing your words will get recognized automatically. But, there is always an option of manually picking your language.
You don't have to actually submit any form or refresh the page to get your results. As you keep typing, the translated word will start to take shape. Sounds convenient, right?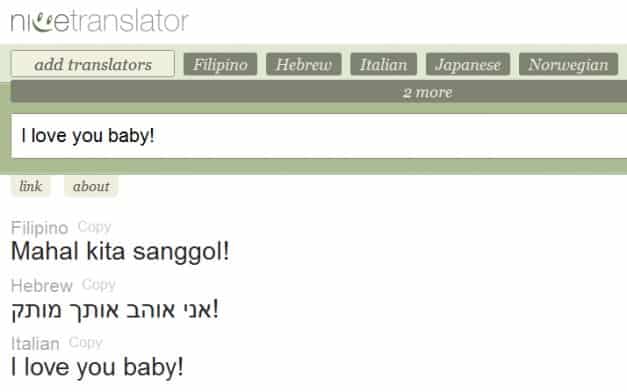 Additional ways to use the site
While the site could have been perfect even if it only provided online translation services, it has more to offer. The developers have not hesitated to add some extra features to make the site/app a lot more. Here are those features:
URL parameters that help in easy scripting and adding browser extensions
Firefox plug-in
WordPress plug-in
Generic JS widget
iGoogle gadget
A quick glance at its features
Let us now take a look at all its features at once:
The site or app can translate text from and to 52 different languages pretty easily.
The app uses Google API for providing the translations.
Users do not need to select the source language themselves. The app will auto-detect it as they type. However, they can pick the language themselves if they wish to.
Pressing the Esc key on your keyboard will restart the translation process.
You can type accented characters like a cakewalk on the app. And, the best part? You need not use a keyboard for that.
There is zero need for any type of registration. You can start using the site or app then and there.
You can access the site from any platform, be it phone or PC. Thus, you get an increased convenience and translate your words online from all places.

Conclusion
As you can see, this site can solve any problem you might have with understanding a certain word or language. That too, in an instant without the need to select your source language. Also, several extra features make the app a more convenient choice in the realm of online translators. So, start using it right now.