Canon MX532 – Everything You Want to know About it
We live in the age of information. That is why computers have become an integral part of our lives. We cannot imagine our lives without them. Printers are electronic devices that can turn soft copies into hard copies. Thus, these devices are essential in the world of PCs. Canon PIXMA MX532 All-in-One Inkjet Printer is one such device. But it is a little special. What makes Canon MX532 different from others? Let's find out.
What is Canon MX532?
Canon MX532 is a multipurpose printer machine manufactured by Canon. It is not just a printer; it lets you scan your documents and photos as well. Plus, it has a Contact Image Sensor. So you can expect high quality scans every time. Apart from being a printer and a scanner, this device can also act as a copier and fax machine. Its modem speed is 33.6 Kbps. It enables this beautiful device to send and receive fax messages without wasting too much time. The multipurpose printer machine is compatible with various platforms. These platforms include Windows, iOS, and Android.
This compatibility with several platforms makes it more convenient to use. The user can take advantage of all its features from any device he has. This Canon printer is lightweight. It's only 18.7 lbs. Thus, the user can relocate it very quickly if he has to. As for the warranty, the printer machine comes with a 1-year limited warranty with Instant Exchange Program. That means the user doesn't have to panic if their printer malfunctions for some reason. The user also doesn't have to worry if it shows any signs of abnormality during this time period. The company will replace the faulty printer with a good one as soon as possible.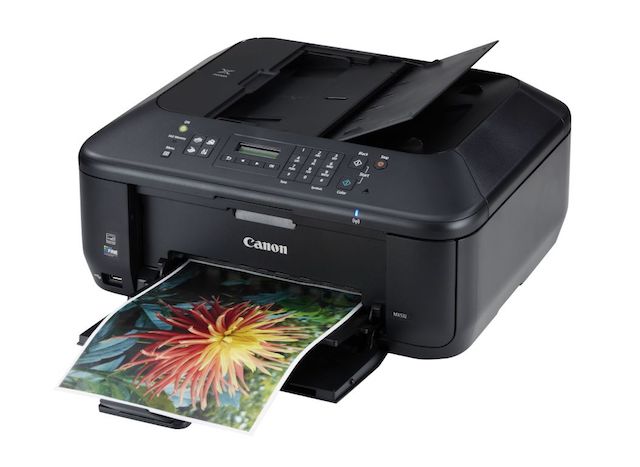 What are its most important specifications?
As we mentioned earlier, what set this printer apart are its unique features. Let's talk about some of them.
This all-in-one printer packs many significant features in it. Firstly, The printer comes with a total of 1,792 nozzles. That includes 1,152 black and 640 color nozzles. Also, it is compatible with multiple ink types. It supports Letter size papers, US size papers, Legal papers, and so on. So you get the maximum freedom while choosing your preferred paper size. It has an automatic sheet feeder. The printouts are always of high quality. One of its best features must be the fact that it has a dedicated print application.
The Canon Print App makes it easier for you to control your printer right from your smartphone. It makes the printing process all the more efficient. If these were not enough, the printer also offers a wireless printing service. That means you can connect it to your computer via WiFi and take high-quality printouts. No extra wire is needed. Sounds great, right? Well, it is not finished yet.
Canon MX532 Scanner:
Now let's talk about its scanner feature. The device has a powerful scanner. It also has an auto-scan mode. Plus, it supports both flatbed and ADF documents. Network scan, push scan, and scan to memory are its other useful features.
The device can also function as a copier device. The copier contains an auto document feeder that makes the process more efficient. You can even preset copy ratios. If you like borderless copies, this copier is for you, as it offers this feature.
If you still prefer sending fax messages to people, the printer can help you to a great extent. As we mentioned before in the article, its modem speed is 33.6 Kbps. So it is no surprise that it has a great transmission speed. However, it varies from paper to paper. For black and white, it is 3 seconds per page. For color papers, it is 1 minute per page. This multipurpose device has a 2-line LCD. Also, the device has a fairly decent memory. It can store up to 50 pages. Like its other features, the fax feature contains a fully integrated ADF. The device also boasts a PIXMA Cloud Link. PIXMA/MAXIFY Cloud Link makes the device more user-friendly. As its name suggests, this feature lets you access your documents from online clouds. Be it Google Cloud or Dropbox – all your stored documents are within arm's reach.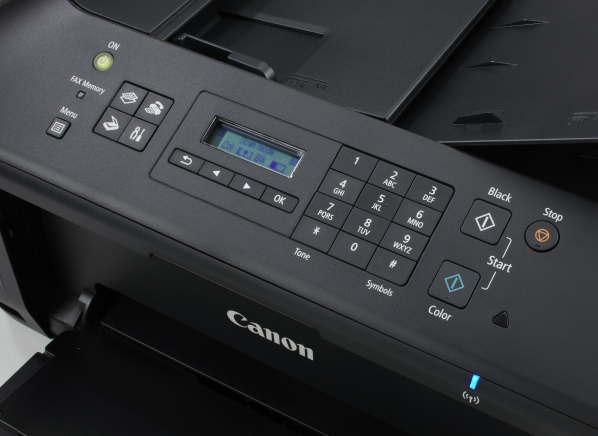 FAQ
Is Canon MX532 Windows 10 compatible?
What makes this scanner truly unique is that it supports a plethora of platforms. According to the official website of Canon, most of their printers support Windows 10, and that includes the MX532 model. So, if you have a computer that runs on Windows 10, you can use this printer without a doubt.
How do I scan on a Canon MX532?
You can scan anything using if you know how to do it. First, put the document on the device's platen. Select the IJ Scan Utility option. Then go to the Settings and set the resolution, size, and so on according to your needs. Next, click on the OK button. After everything is done, click on Document and sit back. You will get your scanned output in a short while.
How I connect my Canon MX532 to WiFi?
Connecting your MX532 printer to WiFi is pretty easy. Just follow these steps correctly. First press the setup button. After that, you will the blue lamp getting light up. It indicates that the printer is searching for WPS-enabled access points. Click on the WPS button and hold it for some time. Then press the OK button. Doing so will connect the printer to the access point. Here we discussed the WPS method. The standard method is quite similar. Press the OK button and select Wireless LAN Setup. Press OK. Then press Stop/Reset button, followed by an OK. After the printer finishes searching available wireless networks, choose your preferred network. In the case of both methods, install the necessary Canon MX532 driver to make your experience better.
Where do I find the WPS PIN on my Canon MX532 printer?
Finding the WPS PIN on your printer is a piece of cake. Like all other Canon models, MX532 WPS PIN code can be found on the body of your printer. If somehow it's not there, you can look at the papers that came with your printer.
Conclusion
As you can see, this Canon printer is a one-man army. It can print, scan, copy, as well as send and receive fax messages. Plus, it reduces your cost by being an all-in-one printer machine. How? Simply because you don't have to buy a different device that suits each of your needs. So, go ahead. Get this printer machine without any hesitation right now.